Getting Around Berlin
Visitors to Berlin have many options to get around. The main option is, of course, Berlin's Public Transportation, which itself includes a few different means of transport.
We have compiled the guide below to help you understand how it all works and help you get around quickly and efficiently.
Berlin's Public Transportation

Berlin's public transportation covers the entire city and is very comfortable and easy to use once you know some basics. This is the reason we have compiled the below guide.
Berlin has the following means of public transportation:
  The S-Bahn – The mostly above-ground City Train (The S stands for the word 'Stadt', which means City. Some say it comes from the word 'schnell', which means fast).
  The U-Bahn – The Underground Train (some lines are nevertheless above-ground. Ask our guides for some amusing historical explanation).
  Trams / Street Cars
  Buses
  RE/RB Regional Trains – Marked with RE/RB, these trains going to destinations outside Berlin can also be used between stations in the city. It is also a good substitute for the S-Bahn if there is a disturbance.
Note: Just for general knowledge, the S-Bahn (and of course the regional trains) are operated by the Deutsche Bahn, the German Railways, while the other means of transportation – the U-Bahn, the Trams and the Buses – are operated by the Berlin City Transportation Authority, the BVG.
General Guidelines:
All tickets are valid for all the above means of Public Transport.
Every Adult above 14 years of age is required to hold a ticket.
Children under 6 years of age ride for free.
Youngsters between 6 and 14 years of age can purchase a reduced-price ticket.
You can find the updated prices in the following link: https://www.bvg.de/en/Tickets/fares
The differences between the different tickets are in terms of the time coverage and the area coverage.
Area Coverage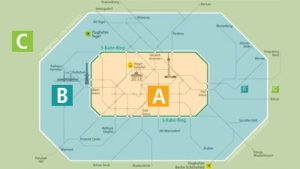 Berlin is divided into three transportation zones – A, B, C.
Tickets are available in the following configurations: AB, BC or ABC.
For visitors to the city, the choice is normally only between AB and ABC.
Areas AB covers the city center (area A) and much of the rest of the city (area B). Area C includes the suburbs and some towns around Berlin. You will need a ticket that covers area C only if you travel to/from Schönefeld Airport, the city of Potsdam, or if you intend to visit the memorial site on the grounds of the former Sachsenhausen Concentration Camp. Other than those sites, you are unlikely to need a ticket covering area C. Tegel Airport is in area B as well.
Note that if you purchase a Multi-Day Ticket for areas AB and then wish to travel once to a site in area C, you can do that by purchasing an Extension Ticket. This extension is available as a one-time ride or as a Day Extension Ticket for multiple rides to or in area C throughout the day.
When buying a Day Ticket it is much cheaper (!) to buy an ABC Day Ticket than buying an AB Day Ticket and adding to it later an Extension for area C. However, when considering a weekly ticket it would be wise to consider how many rides to area C are planned and then compare the difference between an AB Weekly and an ABC Weekly Ticket against the price of individual Extension Tickets. In the end, it is a matter of how often you would intend to take rides to or in area C.
Time Coverage
In terms of the time coverage you have the following options:
One-ride Ticket – valid for 2 hours in one direction only.
Daily Ticket – valid from the first validation (see below about validating your ticket) and until 3am the next morning.
Weekly Ticket – valid until 24:00 on the 7th day from first validation (see below about validating your ticket).
Monthly Ticket (available for a calendar month or for 30 days).
One-ride tickets are available for purchase in a package of 4 tickets for a reduced price.
Short distance one-ride tickets are also available for a reduced price – they are valid for a short ride of 3 stations in the S-Bahn or U-Bahn and up to 6 stations in the Trams and Buses. With these tickets you are not allowed to switch between lines.
The Day Ticket is almost always the best option as it is cheaper than 3 one-ride tickets.
Another advantage of the Day Ticket is that it allows an Adult holding it to take with her/him up to three children between 6 and 14 years of age.
There is also a Day Ticket for a group of up to 5 adults which is very cost-effective. Above 3 adults it is cheaper than buying individual tickets. The only disadvantage is that this is one ticket for the entire group, which therefore must travel as a group. On this ticket it is not allowed to take children for free.
Berlin Welcome Card
The Berlin Welcome Card is a special public transportation ticket combined with discounts in various venues. It is offered to visitors in configurations of 48hs, 72hs, 4 Days, 5 Days and 6 Days.
These tickets cost a bit more than regular tickets for the equivalent time, but they offer discounts that make the ticket worthwhile if you intend to use them.
Welcome Cards come in configurations of areas AB and ABC.
You can see the prices and the list of discounts on the following website: Berlin Welcome Card.
There is also a special 72hs Welcome Card that includes free entrance to the 5 museums on Museum Island.
All Welcome Cards allow you to take with you up to 3 children between 6 and 14 years old.
An AB Welcome Card Ticket cannot be extended to area C by purchasing an Extention Ticket. In such a case you will need to buy an additional BC ticket for each ride.
Where can I buy tickets?
Tickets are available in ticket machines in all Train, S-Bahn and U-Bahn Stations, as well as in ticket booths in major stations, in Kiosks, Tourist information centers and with the Bus drivers (though they aren't very happy about it…).
There is also an App you can use to purchase tickets (see below).
Validating your ticket and avoiding fines
All tickets must be validated before use. This is highly important. Validating machines (yellow in the U-Bahn, red in the S-Bahn) are available on the platforms and inside the buses and trams.
Tickets purchased from the Bus driver or on the machines on the Trams are already validated and require no further action.
Tickets need to be validated once and only once! The validation inserts a timestamp from which the ticket is valid. Do not validate it more than once as it will invalidate the ticket.
You are not required to swipe your ticket or show it otherwise before entering the platform or the train. However, controllers do board the trains (in regular civilian clothes) show their ID and require you to show a valid ticket. If you do not have one they will take you off the train and write you a fine of 60 Euro per person (as of 2020).
As a tourist, you might be forced to pay the fine on the spot. You must demand a receipt.
Smartphone Applications

  Google Maps is very useful in navigating the city and it can also be used to view the timetable and the best way to get from point to point while using the public transportation. However, the information is not always up-to-date with current daily delays or changes. It is very useful though to see which station is closest to you and in finding the stations themselves.

  The official App of the Berlin City Transportation Authority. It has maps of the entire network of S-Bahn, U-Bahn, Trams, and buses. It also helps you in choosing the quickest way between points, has live updates on delays and also allows you to purchase tickets through the App.
Download from the App Store – for Apple Devices
Download from the Play Store – for Android Devices.
Taxis in Berlin
Berlin Taxis are usually very reliable and not too expensive. The driver will always switch on the meter. If he does not – get off the car. This is very, very rare.
You can also use the UBER App as well as a local similar service called FREE NOW (My Taxi). You can download these Apps for iPhone and Android.
Renting Bicycles or eScooters
Many companies rent bicycles and eScooters, which you just pick up on the street, release and pay for with the App. This can be a fun and useful option for short distances, especially during the summer months.
Aside from bikes that you can rent on the street using an App, many hotels, rental bike stores, and other stores, offer bikes for rent. The normal price is about 12-15 Euro a day. One of the bigger and recommended rental bike stores is Fat Tire. They have two branches – in Alexanderplatz (near the base of the TV Tower) and next to the Zoo Train station.
Another option is Berlin on Bikes, whose office is located in the neighborhood of Prenzlauerberg, in the Kulturbrauerei (cultural brewery).
We hope to have given you a comprehensive overview of the various options to get around the city. Enjoy !!